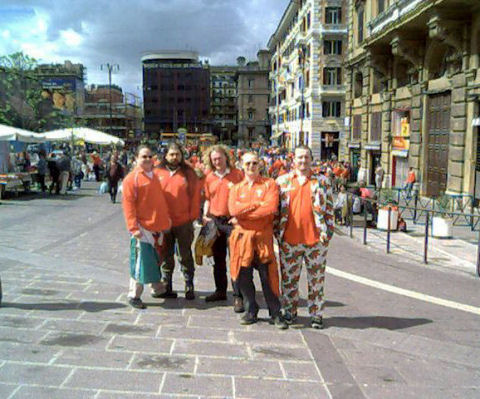 Forza Galles! (Again)
12 months on - things have changed for the RRRUGBY.COMers. I'm a Dad (hence no time for updates) Gareth Jenkins is the new Wales Coach and has just one victory from 9 games.. Wales travel to Rome in search of their first victory in this 6N championship to face an Italian side on a roll after their first ever away win against Scotland.
We're staring down the barrel of 6N white wash, it's like 2003 all over again. Scary stuff. And yet, and yet. The bookies still make us favourites for this game. Alfie is back after his suspension. Henson is still out in the cold but Kevin Morgan is, incredibly, fit again after breaking his jaw in the match against Scotland. The game against France showed flashes, of the Welsh flair and endeavour we know and love. Could we possibly beat Italy and then go on to take a heavily demoralised England at home in Cardiff?
For now that is a dream, but what's certain is that 14 of us will descend on Rome this weekend. We've another 8 to meet out there making a full match day 22. It's 6 years since we last ventured to the eternal city for a 6N weekend in those days our trips numbered in single figures (and how young do we look in the pic above?) Some old (word used advisedly) faces are back with us for this trip- stand up songmaster Iestyn Ap Dafydd and Adrian. We've lost our Beardy, lovable malcontent to the dubious delight of Bologna but will soldier on (we're sure he's made the <i>Wrong</i> decision.
After our last, jaded, adventure to Dublin, Rome is fresh and new and warm! The birra and vino rosso will surely flow, let's hope in celebration rather than in sorrow drowning.
Tim
P.S. Neil missed the trip back in 2001 and so this is also a special trip for him, here's hoping it's a good one.